Alcohol use and related harms have historically been more prevalent among men, but a narrowing of the gender gap has been reported in recent years. Increases in women's drinking reflect positive changes in social positions, and increased social and economic independence means that women are now active players in public drinking spaces and are free to partake in activities traditionally defined as masculine such as drinking. However, this has meant that the negative health effects of alcohol use have extended to women.
One factor that has contributed to increases in women's drinking is female targeted alcohol marketing. Whilst public health research tends to focus on the effects of marketing on consumption, it is also important that the wider negative social outcomes of marketing are considered, such as the impact of the gender stereotypes depicted on normative expectations of gender roles, and relations between men and women.
The Public Health Institute, Liverpool John Moores University, were commissioned by IAS to review the literature exploring the ways in which women are both targeted and represented in alcohol brand and nightlife marketing, and what the impacts on drinking practices and gender equity might be. In this blog I reflect on the report findings, and discuss evidence of how alcohol companies target women with their marketing, how women's bodies and sexualities are used to promote brands and nightlife venues, and the implications for drinking practices, gender equity and marketing regulation. 
How are women targeted by alcohol marketing, and what are the effects?
Our review found that since the 1990s there has been a clear feminisation of alcohol products, drinking spaces and drinking culture, and increased targeting of women through a number of strategies. This includes the development of new products such as fruit beers and ciders, ready to drink beverages (RTDs), low calorie / carbohydrate, and low-, reduced-, and alcohol-free products. Whether it be Lambrini's 'Skinny Original' or the relatively new brand 'Petite Prosecco', many female targeted brands now have a 'low calorie' option. These products and their marketing draw on women's insecurities and anxieties over body image and present the drinks as a solution to concerns over the calorific content of standard brands, and use the ideal of female slimness to influence brand choice.
Lifestyle messages that appeal to gender stereotypes are also commonly used, such as a focus on slimness/weight; all-female friendships; motherhood; appearance, fashion and beauty, and sexiness. Alcohol marketing is also dominated by stereotypical feminine imagery, such as the colour pink, glitter and floral images, and opportunities to win stereotypical feminine accessories such as make up and fake tan. Such messages are not only problematic in that they may also appeal to the youth market, but in how they reinforce a narrow definition of femininity, and women's interests and leisure as being dominated by appearance (see #dontpinkmydrink).
With regards the effects of such content, there is a lack of research exploring the impact of gendered specific messages on women's drinking practice and more research is needed in this area. However, qualitative research exploring young women's drinking more generally suggests that they have clear perceptions on what drinks are marketed as 'feminine' and choose their drinks accordingly. Brands and drinks that are viewed as 'nice' and 'pretty' are regarded as feminine and women choose to consume such products to express their femininity. Women also appear to pay more attention to the aesthetics of drinks than men, with some viewing alcoholic drinks (eg cocktails) as fashion accessories.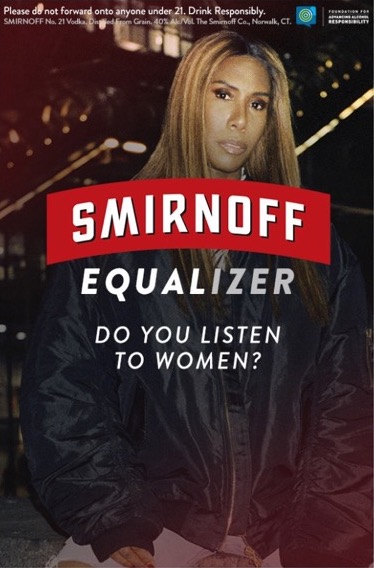 Even the size and shape of beverage container can influence female alcohol consumption, with smaller and slimmer cans felt to be more feminine, yet believed to promote more rapid consumption. This suggests that the design of products as 'slim' may influence women's drinking patterns, and may lead to more harmful drinking. Other research has found that women are more adventurous and experimental in their choice of drink than men, which means they may be more susceptible to creative marketing techniques and products.
More recently, the use of gender stereotypes has been accompanied by messages of empowerment, including sexual assertiveness, 'me time', the promotion of equal gender representation and the celebration of women through associations with events such as International Women's Day. The multinational alcoholic drinks company Diaego, for example, is an official supporter of International Women's Day. Other examples include Smirnoff's Equalising Music Campaign (see Image 1), which aims to improve gender representation within the music industry by holding a number of music events featuring female headliners, and the creation of a Spotify play list featuring female artists, thus allowing the brand to successfully associate itself with gender equity.
Such marketing may be referred to as a form of 'commodity' feminism, or 'femvertising', whereby brands aim to sell products through disseminating messages of gender equality, and linking up with campaign groups and charities. For example, Brew Dog have in the past collaborated with The Women's Engineering Society, which promotes the role of women in STEM industries, and 9to5, an organisation that aims to address the gender pay gap,  to encourage the sale of its female targeted products to women.
Whilst these messages of equality may be a positive step for gender equity more generally, it is still a technique to sell a potentially health-harming product to women. The value of brand involvement in the feminist movement is also debatable, and our review found evidence from a number of countries that demonstrated that such content co-exists alongside the sexualisation and objectification of women, particularly in brands that target men, and in the marketing of night-life venues. 
How are women represented in alcohol marketing and what are the wider social implications?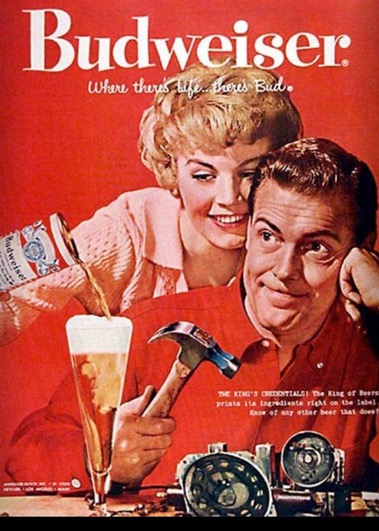 The gender roles ascribed to women in alcohol marketing have changed over time. Historically, women were presented in a way that reflected traditional gender roles such as women as passive and submissive, domestic (eg serving men, see Image 2) and sexual objects. Brand marketing has adapted in response to the shifting social positions of women, and now presents women as empowered and active participants in drinking and public spaces, and as active sexual subjects.
This change is important in light of a small body of research that suggests women dislike the use of sexualised images, and whilst this is to a lesser degree than men, not all men find such content appealing. However, somewomen find sexualised imagery appealing when it is aligned with connotations of empowerment through sexual agency. This suggests brands and venues may be able to continue to sexualise women in a way that appeals to men, whilst preventing alienating the female market, by creating sexualised content in which women are portrayed as being self-sexualising and as being in control.
Whilst it's likely that women have always disliked such content relative to men, the industry have only recently begun to take notice. For example, The Campaign for Real Ale (CAMRA), a consumer organisation in the UK that hosts regular beer festivals across the country, has introduced of a new code of conduct which bans sexist marketing, stating that by rejecting imagery that sexualises and demeans women, they have declared that they are 'taking a stance' against outdated and discriminatory attitudes, but in a way that also aims to increase beer sales among women. Brew Dog's shift from promoting its 'Trashy Blonde' ale, to the ironic use of gender stereotypes to raise awareness of the gender pay gap through its reduced price 'Pink beer for Girls' IPA, launched on International Women's Day 2018, provides further evidence of change. It is important that future research gains a better understanding of how commitments towards removing sexist and sexual marketing provides a strategy to appeal to the female and youth market.
However, it's not all good news for gender equity. The review found much discussion of the sexualisation of the night time environment (NTE) and its marketing, and despite nightlife venues attempting to become more 'female-friendly', the marketing of such spaces still reinforces traditional gender relations and the inequalities at play in wider society (eg sexualisation and objectification). For example, research in both the UK and Australia has found that women's bodies and sexualities are commonly used to promote nightlife venues on social media, and that venues strategically objectify women to attract men, which reinforces the NTE as an environment that women experience through the male gaze.
Of concern is how brand and NTE marketing content that normalises the objectification and sexualisation of women, may reinforce negative attitudes towards women. For example, it has been suggested that this type of marketing can lead to the acceptance and normalisation of (sexual) violence towards them, and that such depictions may undermine anti-violence messages and interventions. A limited body of research from the USA has found an association between the extent of sexualised imagery in alcohol brand marketing within communities, and the level of sexual violence towards women in the corresponding areas.
Future UK research must explore the effects of brand and NTE marketing of this nature, and the impact on women's lived experiences, to inform approaches aimed at increasing women's safety in the NTE.
What does all this mean for the current regulatory system?
In the UK, alcohol marketing is prevented from linking 'alcohol with seduction, sexual activity or sexual success' and implying 'that alcohol can enhance attractiveness' (ASA, CAP; Portman Group). More recently, the ASA and CAP, and the Portman Group, have introduced a new rule that aims to self-regulate marketing material that is likely to 'cause offence in relation to race, religion, gender, sexual orientation, disability or age'.
Following a review of gender stereotypes in advertising, the ASA and CAP (2019) also recently announced new guidance to prevent adverts from including 'gender stereotypes that are likely to cause harm, or serious or widespread offence', 'sexualised imagery if this is irrelevant to the product', content that sexualises and objectifies both women and men, and adverts that 'mock people for not conforming to gender stereotypes'.  
Whilst these codes will not cover the examples of female targeted marketing discussed (eg use of pink), it will be interesting to see how they impact on the use of gender stereotypes and content that demeans, objectifies and sexualises women. To date, there has been only one complaint submitted to the ASA regarding the use of negative gender stereotypes in alcohol marketing, but no further action was taken. Given evidence of violations of more established codes (eg sexual success), it is important that the effectiveness of these new codes are independently evaluated, including their impact on the nature of NTE marketing. Only then will be know if time has really been calledon the use of harmful gender stereotypes.
---
First published on IAS website.