Today we are fewer than 60 days away from an historic regulatory decision that will literally save lives and protect unborn children from the harm of alcohol.
After 24 years of tireless public health advocacy, a small group of politicians in Australia and New Zealand now hold the pen on approving a mandatory pregnancy warning label on all alcoholic products, as recommended by Food Standards Australia New Zealand (FSANZ).
That long journey began in 1996, when the first attempt was made at the federal level for mandatory pregnancy warning labels on alcoholic products. Regrettably it did not succeed.
In the three decades since, and as new generations of Australians have grown, matured and are having their own children, it's a sad fact that a larger proportion of the population now live with disabilities caused by alcohol, including Fetal Alcohol Spectrum Disorder (FASD) because of our failure to act.
FASD is estimated to affect up to five per cent of the Australian population, with a potential range between two to nine per cent of babies born with FASD each year. Providing support services for these lifelong difficulties is estimated to cost close to two billion dollars every year, spread across the health, education, child protection and criminal justice systems.
Less than 20 per cent of people living with FASD have identifiable physical characteristics to indicate that they are living with FASD. The much larger group who remain have no visible physical appearance which can be linked to FASD and yet they may have brain damage which impacts all aspects of their capacity to learn, grow and function in a community.
Disabilities caused by prenatal alcohol exposure are far more common than other disorders such as autism, yet it has taken years for science, policymakers and society to recognise the need for action on FASD.
During this time, the alcohol industry pre-empted the growing mood for regulatory intervention and instigated its own voluntary industry scheme for pregnancy warnings in 2011. What eventuated was not driven by public interest.
In the eight years the industry scheme has been operating, it has resulted in less than half (48 per cent) of all alcohol products carrying warnings.
Year-on-year since 2011 the public health sector, including the Foundation for Alcohol Research and Education (FARE), raised concerns about the effectiveness of the scheme and the industry's conflicted role in public health promotion.
FARE and NOFASD Australia have long argued that women want to know if something may harm their baby before birth.
---
"Women have a right to be informed about the harm that alcohol can cause to unborn children"

NOFASD CEO Louise Gray
---
Now, after two years of consultation and message testing, one of the recommendations from the most comprehensive review of food labelling laws undertaken in 2011 is on the verge of being implemented through the Australia New Zealand Food Standards Code.
FARE and the NOFASD Australia issued a joint media release on Monday welcoming the clear, direct pregnancy health warning.
Much to the chagrin of the alcohol industry's various lobby groups, the new pregnancy warning that will be compulsory on all alcoholic products is clear and informative.
The FSANZ consumer testing of the industry's opaque message indicated that overall for women both in Australia and New Zealand, the statement, it is safest not to drink while pregnant, performed least well of the four statements tested in conveying the message not to drink alcohol while pregnant. It also performed least well in terms of its believability, credibility and convincingness.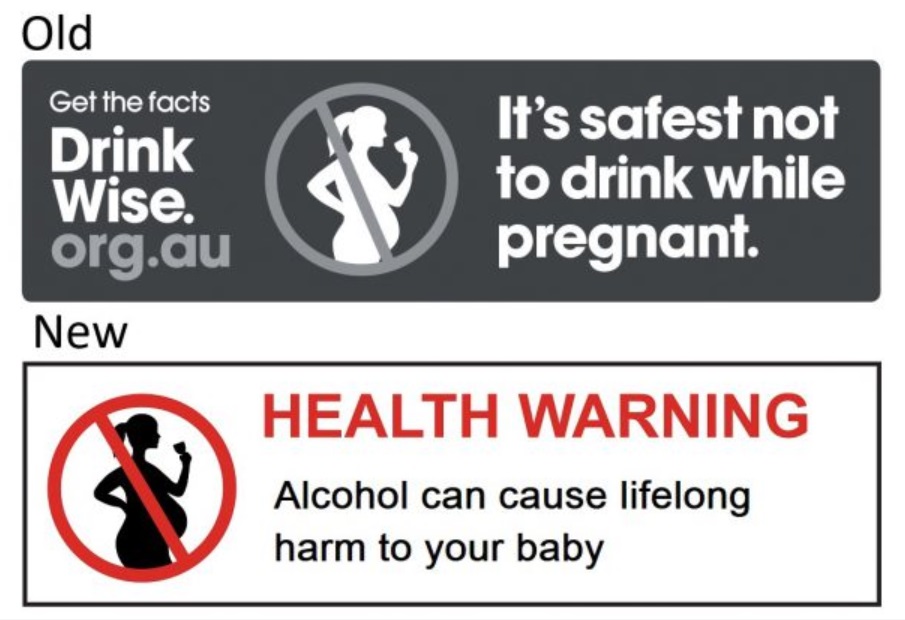 Counting down the 60-day deadline, Australian and New Zealand Food Ministers must brace for the typical industry backlash using the predictable tactics of propaganda: Dismiss, Distort, Distract and Dismay.
---
Dismiss tactic:
The alcohol industry will continue to claim there is no need for a new, stronger pregnancy health warning as recommended by health experts and adopted by FSANZ.
Distort tactic:
The alcohol industry will continue to cherry-pick and amalgamate data to claim that Australian women are aware of the risks of alcohol during pregnancy.
Distract tactic:
The alcohol industry will continue to talk about the pregnancy health warning as if it's simply unnecessary 'artwork', completely belittling the seriousness of the risks around alcohol and pregnancy.
Dismay tactic:
The alcoholic beverages industry – a trillion-dollar market – will continue to cash in on national sentiment about the cost of recent natural disasters in Australia to secure sympathy for companies, many of which are billion-dollar global enterprises.
One in four pregnant women in Australia continue to drink alcohol after knowledge of their pregnancy. This means approximately 75,000 alcohol-exposed pregnancies annually, which is among the highest rates of prenatal alcohol exposure in the world.
With that knowledge top of mind, now the onus is on the Australian and New Zealand Food Ministers to stand firm and uphold the public interest to make a genuine step change in the effort to reduce alcohol-related harm.